10% discount on ALL Medical Treatments when booked for any Wednesday throughout October with Dr Mark Lister…
Well, the time has flown by since joining the team at Face Clinic London. I have nestled in to our colourful and quirky Soho surroundings, and have been enjoying getting to know our loyal clients, new and old alike. As cosmetic trends change, and procedures become more sophisticated, at Face Clinic London we are focused on delivering the most up to date techniques to give you the results you want.
One much anticipated treatment which has been met with interest and excitement has been our 8-Point Face Lift. For me, this is one of our most satisfying procedures to perform. Unlike wrinkle injections, results are visible immediately, and last much longer. Whilst the noticeable effects of the procedure are obvious to the client, they are subtle enough that friends, family and colleagues, who often can't resist but comment on how less tired, refreshed or invigorated you look, will find it impossible to pinpoint why!
To me, a successful treatment is not one that treats one area in isolation, but one that works in synchrony with the other facial features. An attractive face is not always just about having dramatic cheekbones, a strong jaw, or large lips, but one where all the facial features are complementary of each other to promote harmony and beauty throughout the whole face. This is the real beauty of the 8-point facelift; reversing the pull of gravity by enhancing specific points in the face, a perception of lift is restored throughout – like tightening the supports of a sagging tent. Under eye depressions softened, cheek bones projected, nose to mouth lines smoothed, and the jawline defined, all working together in a subtle manner to restore the appeal of ones face in another's eye.
Read our latest blog post "Client Journey: 8-Point Face Lift" to find out first hand what it's like to have this groundbreaking treatment written by one of our very own clients!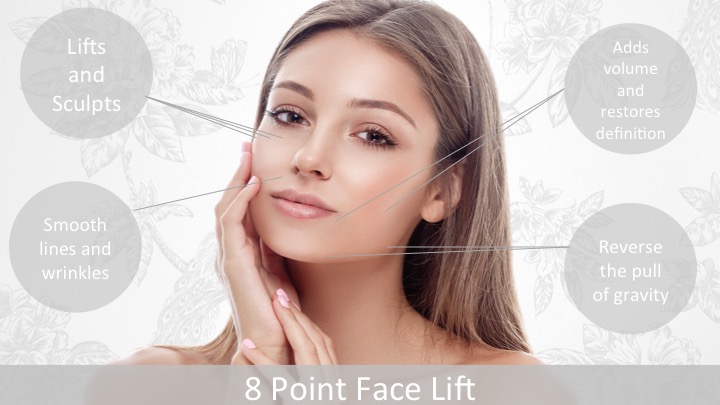 I am looking forward to meeting more of you, and helping you achieve the results you want. To that end, I'm pleased say that I am beginning to add more availability on Saturdays.
Finally, as the dark nights set in, there is no denying autumn is upon us – my favourite season –chunky knits and pumpkin spice lattes. With the prospect of the party season just around the corner, and the desire to look our best for all the social events that come with it, I would like to offer you all 10% off on all medical treatments with me on Wednesdays throughout October.
Warm Regards
Mark Lister