To book an initial consultation please Book Online using our online booking system or manage your existing booking online.
Please note, for a Profhilo, Skinboosters or 8 Point Face Lift treatment you need to select 'Dermal Fillers' from the drop down menu – these appointments require at least 45 minutes. If this is not clear, please call or email us directly.
Please also be aware, children are not allowed into the treatment rooms, if there is no-one who can come with you to look after your child, please reschedule your appointment to a more convenient time.
If you have a question before booking
If you would like more information about any of our services then please contact us by phone after 10am Tuesday to Saturday
020 7851 6624
or
[email protected]
Our clinic is located in Soho, just a few moments walk from Carnaby Street.
Saturday clinics are available and also late evening clinics until 8pm on Tuesdays, Wednesdays and Thursdays.
We accept Card and Cash payments only.
We are an accredited clinic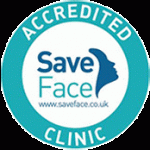 Face Clinic London is a Save Face Accredited clinic.
We have been independently assessed against a robust set of standards in order to be certified as Save Face Accredited.