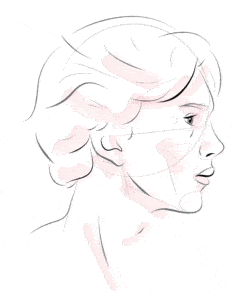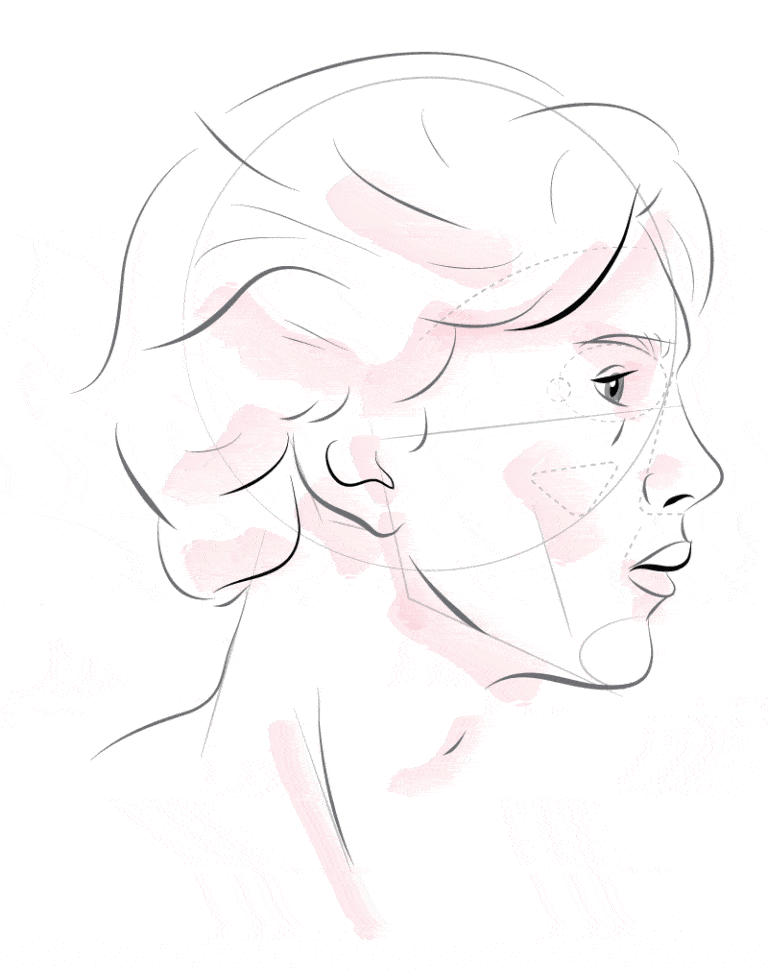 The Juvederm® 8-point Facelift uses the latest generation of Hyaluronic Acid (HA) Fillers to redefine, rejuvenate and subtly enhance your facial features. The Juvederm® 8-point Facelift also known as the Liquid Face Lift is a non-invasive, non surgical face-lift that offers a subtle more youthful appearance with almost no recovery time.
As we age, facial volume significantly decreases. The main signs of ageing occur because of volume loss, re-positioning of facial fat and skeletal remodelling. This innovative facial treatment produces a more youthful look by restoring volume, proportion and symmetry to the face.
Using an advanced technique, precise areas of the face are targeted with dermal filler for a total facial rejuvenation. The areas targeted are those where greatest volume is lost, each point having a synergistic effect on the others, contributing to an overall enhanced appearance.
Frequently Asked Questions
What areas are targeted in the Juvederm® 8 point Face Lift?
There are six areas treated with the 8 point face lift
Under eye area
Nasolabial Folds (nose to mouth lines)
Cheek Bone (3 points for definition and structure)
Corners of Mouth (not for lip enhancement)
Jowl (frontal jaw)
Jaw Line
What products are used in this procedure?
We use the latest generation of Juvederm® dermal fillers – the Vycross range. These produce excellent soft, natural and long lasting results. These products contain Hyaluronic Acid, which is a molecule found naturally in the skin which holds in water, allowing for the intended result of providing structure and volume.
What are the benefits of the Juvederm® 8 Point Face Lift?
Because the Juvederm® 8 Point Face Lift is a non-surgical non invasive treatment there is next to no down time, no scarring, and much less risk of infection when compared to a surgical face-lift. The 8 Point Face Lift is a long lasting, subtle way to give a more natural youthful appearance to your facial features. The result of a single treatment can be seen instantly and can last for up to 18 months.
Dermal filler injections used in the 8 Point Face Lift give a natural looking result that does not affect facial expression. As your face changes over time, dermal fillers allow you to control your looks subtly as you age.
What does the Juvederm® 8 Point Face Lift involve?
Before
Prior to starting treatment you will have a consultation to gain an appreciation of you concerns and expectations. At this point you will have the opportunity to ask questions, and your Doctor will objectively grade the upper, mid and lower face in terms of structure, proportion and symmetry to prescribe a facial treatment plan, specific to you, improving your face as whole.
After a treatment plan has been agreed, and only once you are happy to proceed, you will be asked to read, understand and sign a consent form before the treatment can begin.
During
First, any make-up will be removed and the area cleaned with anti-septic. Then using a fine, sterile needle, your Doctor will inject Juvederm® filler into the key areas of the face that the 8 Point Face Lift targets. The entire process normally lasts around 45 mins.
After
The results of the Juvederm® 8 Point Face Lift are visible immediately and most people feel confident enough to return to work straight away. There may be some mild swelling, bruising or redness but such side effects are temporary and should resolve within a few days. Once the swelling has subsided the final results of the Juvederm® 8 point face lift will take effect over the following 2 weeks.
How long does the Juvederm® 8 Point Face Lift last?
As each person is different in both their facial structure and the rate that Hyaluronic Acid is broken down within the body, the duration of the results may vary. However, results can be expected to last up to 18 months.
Does it look natural?
There is no one size fits all approach when it comes to Dermal Filler treatment. At Face Clinic London, we pride ourselves on having an appreciation of natural beauty, and we work with techniques to influence your facial features to produce a natural, harmonious yet subtle result.
Is everybody suitable to have the Juvederm® 8 Point Face Lift?
Individuals who have a history of unacceptable scarring, active infection, known allergy to Hyaluronic Acid or Lidocaine or those who are immuno-compromised are not suitable for this treatment.
People who are most likely to benefit from the Juvederm® 8 Point Face Lift are those looking to:
Reduce lines and wrinkles
Define the contours of your face, such as chin or cheek
Dermal Fillers should not be used in or near areas where there is or has been skin disease, inflammation or skin related problems. Dermal Fillers have not been tested in pregnant or breast-feeding women. Individuals with medical conditions that lower the body's immune response or individuals undergoing therapy that is immuno-suppressive may be more prone to infection by a skin injection procedure.
During your pre-treatment consultation, you should thoroughly discuss your medical history with your Doctor at Face Clinic London.
Does the treatment need pain relief?
A small amount of local anaesthetic is contained within the syringe with the Dermal Filler to reduce discomfort and a numbing cream will also be applied prior to treatment.
Are there any risks with the Juvederm® 8 Point Face Lift?
Whilst the Dermal Fillers we use at Face Clinic London have been rigorously tested and have a very good safety record; no injectable treatment is without risk. We recommend that you always seek an appropriately trained and highly skilled Medical Professional to administer any injectable treatment.
At Face Clinic London, only fully GMC registered, NHS practising and Save Face accredited Doctors carry out our dermal filler treatments.
Are there any risks with the Juvederm® 8 Point Face Lift?
Treatment with Dermal Fillers and other injectable treatments, is still largely unregulated in the UK, allowing for wide variation in the qualifications and experience of practitioners, and the standard of treatment provided to patients.
At Face Clinic London your treatment will always be carried out by a Doctor. Both our Doctors are fully GMC registered, Save Face Accredited, and engage in regular training to remain able, skilled and professional in the treatments they provide. Both our Doctors also work within the NHS and undergo regular appraisal and revalidation.
It is important that you feel comfortable with your Doctor, not only in their ability and knowledge, but also on a personal level. We encourage all our patients to carefully research the practitioner offering them treatment, and only to make an informed decision on proceeding with treatment once they are comfortable with their impression, their experience and their qualifications.