Face Clinic London have been mentioned in a number of national and local London news, magazine and media publications, here is a small selection for you to view:
Face Clinic London In The Independent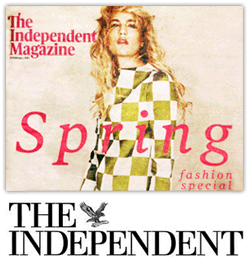 Published February 2013 in The Independent Magazine
Face Clinic London provide a full range of non surgical cosmetic treatments including wrinkle injections and dermal fillers performed by fully qualified doctors. Book a consultation online or visit their London based clinic in Soho.
No Sweat: Face Clinic London Clinic Offers Sweating Treatments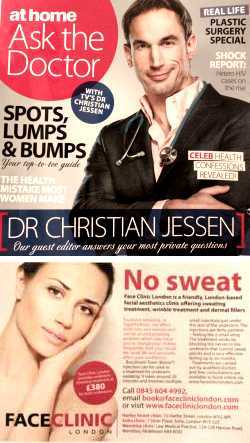 Published March 2011 in At Home Magazine: Ask the Doctor with Dr. Christian Jessen
Face Clinic London is a friendly, London-based facial aesthetics clinic offering sweating treatment, wrinkle treatment and dermal fillers.
Excessive sweating, or hyperhidrosis can affect both men and women and can be an embarrassing problem which may force you to change your clothes frequently, limit your social life, work life and adversely affect your confidence.
Botulinum Toxin (Botox) injection can be used as a treatment for underarm sweating. It takes around 20 minutes and involves multiple, small injections just under the skin of the underarm. The injections are fairly painless- feeling like a small sting.
The treatment works by blocking the nerves in the underarm that control sweat glands and is very effective, lasting up to six months. Treatments are carried out by qualified doctors and free consultations are available to book online via www.facecliniclondon.com, Call 02078516624 or email [email protected]. They a clinic in Soho (7 Silver Place, Soho W1F 0JT)

Face Clinic London opens Botox and dermal filler clinic in Soho
Published March 2010
Building on the success of their first clinic, Face Clinic London are expanding to a new clinic in the heart of Soho, Central London.  Face Clinic London was set up in 2009, by two local London doctors with the aim to provide wrinkle treatments at affordable prices in relaxed and frinedly surroundings.
Clinic Co-Founder , Dr Anita Kapoor, explains "we are opening our second clinic in the heart of Soho so that we can provide a convenient service to those working and living in Central London and surrounding areas.  With most treatments taking an average of only thirty minutes, clients can easily pop in for treatments during their lunch break or after work.
Face Clinic pride themselves on giving a professional and friendly service.  All treatments are administered by fully trained and registered doctors.  All new clients are offered a twenty minute, no obligation consultation to help choose the treatment that would most suit them.
With a highly professional team, positive outlook and quality service, Face Clinic London can be trusted to provide an excellent service to thier new and expanding client base.
New Face in Soho

Published 4th February 2010
FaceClinic London are expanding to a premier new space in theheart of Soho.   Face Clinic London specialise in non surgical wrinkle treatments including Botox and dermal fillers.

Founded by two fully qualified doctors, they are offering free consultations on the grand opening day. Their Botox treatment reduces crows feet,frown and forehead wrinkles with a ten minute treatment that lasts for up to four months with no anesthetic needed. 1 area costs £230, it's £300 for 2 areas and £350 for 3 areas. To find out more about Botox and dermal filler treatments, log on to www.facecliniclondon.com. To book a consultation contact Face Clinic London on 0207 851 6624 or email [email protected].