If you have a question before booking
If you would like more information about any of our services then please contact us by phone after 11am Monday to Saturday
0845 604 4992
or
book@facecliniclondon.com
Our clinic is located in Soho, just a few moments walk from Carnaby Street.
Saturday clinics are available and also a late evening clinics until 8pm on Wednesdays and Thursdays.
We accept Card and Cash payments only.
We are an accredited clinic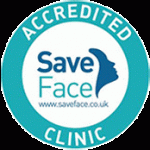 Face Clinic London is a Save Face Accredited clinic.
We have been independently assessed against a robust set of standards in order to be certified as Save Face Accredited.