Please note, this blog is from 2013. Face Clinic London no longer offers Skinceuticals. Please use this post as a guide.
With summer on the horizon, there is no better time than now to use a really good facial cleanser to get your skin glowing for the glorious upcoming months.
The harsh cold winter often makes your skin dull and no-one wants to be looking tired and weary when they hit the beach!
Shine inside and out, just like the sun, by exfoliating your skin and decongesting those blocked up pores. That is why we have chosen the innovative Blemish + Age Cleansing Gel as our beauty buy.
What are the benefits?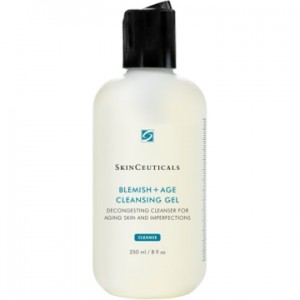 This cleanser contains glycolic and salicylic acid which are great for reducing acne breakouts and brightening the skin. So if your skin is prone to blemishes and impurities when the temperatures rise, this is perfect to remove those excess oils.
Unclog your pores whilst diminishing surface indicators of age with precise cell-by-cell exfoliation. Suffer from fine lines, wrinkles, discolorations and rough texture? This facial cleanser is key to healthy-looking, radiant skin this summer.
If your skin is prone to acne this unique gel addresses those embarrassing flare-ups, as well as visible signs of aging. It couldn't be simpler!
What is the science behind the magic?
Lipo Hydroxy Acid: LHA exfoliates the skin, decongests clogged pores, refines the skin's surface, and has anti-bacterial and anti-inflammatory effects.
Glycolic acid: This Alpha Hydroxy acid (AHA) eliminates dead skin cell build-up and improves skin hydration.
Salicylic acid: This Beta Hydroxy acid refines the pores and helps reduce acne.
How much does it cost?
SkinCeuticals is a reputable manufacturer as they only use high quality ingredients and many of their products are backed by scientific evidence, so you can get peace of mind that it really does work.
There you have it- our best beauty buy of the month. Purchase it today and get fresh glowing skin just in time for summer. Have you used the Blemish + Age Cleansing Gel before? Let us know your thoughts by commenting below!