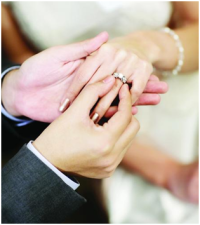 Spring is in the air which can only mean one thing; the wedding season is just around the corner.
Many loved-up couples choose the gorgeous spring/summer time to tie the knot. Although the great British weather is extremely unpredictable, the chances are you might experience a sunnier, warmer day in contrast to October or November time.
Now every person wants to look their best for the big day. Some men and women spend hundreds of pounds in the run-up to their wedding on beauty products and skincare treatments.
But is it a crime to want to look beautiful and flawless? Of course not! As after all, everyone only plans on getting married once.
Getting a facial or a back massage is the perfect way to relax during the stressful few months before a wedding. All the planning can get extremely hectic, but you can soon unwind by going to a spa or getting your nails done.
And more and more brides and groom-to-be's are turning to Botox to look their best. There is a lot of pressure to impress at a wedding; the pictures are going to stay with you for the rest of your life, so it is imperative that you feel confident in your skin.
Some photographers do not like to airbrush photos, to make them appear as natural as possible, which means you don't quite get the immaculate look that you may want.
How long before your wedding should you wait before having Botox?
We recommend you to have the Botox injections at least one month before the big day. It is always important to do a test-run; even though Botox treatment is quick and safe, if you have never had it before it is understandable that you may feel a little nervous.
However, it can take about 7-14 days to see the full effects after the initial treatment which is why we advise you to have it done at least a month before.
Also, you should avoid alcohol, facial massages and extreme changes in temperature such as steam rooms and sauna's for 24 to 48 hours after the procedure- so take this into account when arranging your hen or stag do.
Are there side effects?
Botox injections are relatively painless but you might find that you experience slight tenderness and mild pain during the injection. There may be some minor swelling immediately after the injection; however this normally settles after about 30 minutes.
You may also get some slight bruising the next day, which is relatively uncommon, and is why we recommend you to get it done in advance.
Which areas on the face can you have Botox?
Generally, Botox works well for the frown, forehead and eye wrinkles. During the big day, you will find yourself overwhelmed with emotions and this may be evident in your facial expressions.
If you have any unwanted horizontal lines across your forehead, or frown lines in the area between your eyebrows, or crow's feet in the outer corner of the eyes and you want to get rid of them for your wedding, you can with the help of Botox.
Botox for excessive sweating before your wedding
Another treatment which is becoming popular to have before a wedding or other significant occasion is hyperhidrosis treatment, also known as excessive sweating treatment.
Some people are prone to excessive sweating in response to hot temperatures, stress or emotion which is more likely to be a problem on an important occasion such as your wedding.
Botox can be injected into areas prone to excessive sweating such as the underarm or the forehead and can reduce sweating by up to 90 to 100 per cent.
The treatment involves small injections of Botox, and takes about 15 minutes to complete. The treatment takes effect in about 5 to 7 days and the sweating can be stopped or significantly reduced for about 4 to 6 months.
So if you are engaged to marry and you are considering Botox, make sure you get it done at least one month before to ensure your muscles have time to respond, and the treatment to take full effect. You want to be able to true show your true emotions on your big day and not worry about anything else!
Find out more about the wrinkle treatment by clicking here, or sweating treatment here, and for a consultation get in touch via our contact page.