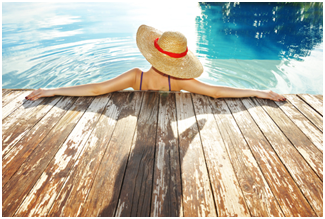 The sun is out and the birds are singing. It can only mean one thing; spring/summer has definitely arrived.
Everyone wants to look their best at this time of year; to have clear, glowing skin and healthy luscious locks. But did you know that you can look and feel younger this summer, without going under the knife?
Facelifts are so last year. Instead, people are choosing to fake it- the easy way. You can look fresh and firm, without plastic surgery, and here are our top tips:
1. Botox
You can stop the clock and wrestle with those wrinkles with Botox treatment. If you have suffered from excessive sun exposure in the past, you can develop frown wrinkles as well as crow's feet.
Botox is quick and easy, extremely safe, and it can last from 3 to 4 months. So if you get it now, it will last you most of the summer!
2. Facial Exercises
As we age, our skin loses its elasticity and the muscles in our neck start to sag. Gravity unfortunately takes its toll and the end result is a 'turkey neck'. This is the last thing you want when you swap those polo neck jumpers for fitted tees.
You can try some facial exercises to reduce the appearance, and you can also use neck creams and serums to firm the skin.
3. Quality Skincare
As summer approaches its essential to be using a high quality antioxidant serum such as Phloretin from SkinCeuticals, which has been shown to prevent damage caused by our busy urban lives including sun damage and environmental pollutants.
If you are planning a trip away in the sun, its imperative to protect your skin from the harmful effects of the sun, we have some of the best sunscreens available, that not only protect your skin from premature ageing but can also reduce your risk of skin cancer caused by UVA and UVB sun rays.
Also try the A.G.E Interrupter anti-aging cream. It contains 30% Proxylane which improves anchorage of the skin's upper layers to increase elasticity and thickness. It also has 4% blueberry extract which acts as an antioxidant. Overall, it is formulated to improve the creping, thinning appearance of mature skin. Make sure you apply it in an upward motion.
4. Get a facial
Over the cold harsh winter, your skin can lose its sparkle and start to look dull. Now is the perfect time to get a facial.
You can use daily facial cleansers that are mild and gentle on your skin, but you should still use a thorough one and really exfoliate your skin at least once every 2 weeks.
Be careful though because you don't want to strip the skin of its essentials lipids, anti-oxidants and water-binding substances by getting a facial that is too harsh.
5. Feed your face
There are a number of foods that you can eat this summer which can help you to look younger. There are various natural foods which can give you a natural glow and some of these include;
Eggs are rich in zinc which is important for healthy skin, as it controls oil production in the skin.
Strawberries are packed full of Vitamin C which keeps your skin smooth and rejuvenated, and wrinkle free. Other foods with vitamin C are broccoli and oranges.
Tomatoes are excellent at preventing fine lines and wrinkles because they contain lycopene, which can help to protect the skin from sun damage.
As well as eating healthily, make sure you drink plenty of water on a daily basis to prevent getting dehydrated.
6. Work the eyes
They say the eyes are the windows to your soul and they can show your true age. Brighten them up this summer and make them bag-free with the help of an eye serum. We recommend SkinCeuticals AOX eye gel proven to prevent the delicate eye area from both environmental and sun related ageing.
As well as preventing dark circles, rejuvenate your lashes and lift them up more to open up your eye shape. Try out cosmetic innovation Revitalash. The eyelash condition will give you longer, thicker and fuller eyelashes so you can flutter your lashes to your heart's content.
7. Semi-permanent makeup
Your makeup can do wonders to knock off the years. Use primers that tighten your skin, a good firming foundation, a great under-eye concealer, and chisel your cheekbones with some blusher.
Did you know that a well-shaped eyebrow can help to disguise sagging eyelids? Our semi-permanent eyebrow makeup is perfect to give you an attraction, youthful eyebrow every day this summer.
So there you have it- 6 ways to rejuvenate your complexion before you hit the beach! For a consultation on any of the treatments mentioned above, please get in touch via our contact page.