Please note, this blog was posted in 2014. Some information may have changed.
As Valentine's Day approaches, are you looking forward to it, or dreading the hype surrounding it? Whether you are single or in a relationship, you can still treat yourself and feel good and look fabulous. So whatever you have planned for February 14th, make it memorable.
In preparation for Valentine's Day we have produced a 5 day essential skin and beauty plan that will ensure you feel good and look you best on the 14th.
DAY 1: Prepare for Smooth Skin
If you were looking to have a more intensive facial treatment then the Soho Skin Intense Microdermabrasion would be the ideal option.  Microdermabrasion is a safe and controlled treatment that which exfoliates the superficial layer of dead skin cells using tiny crystals.  The treatment is safe, painless and with little or no downtime.
What are the benefits of Microdermabrasion?
Removing the superficial layers of dead skin cells not only helps your products work more effectively (as you are removing the layer that prevents products from being absorbed) but can also help target ageing skins, fine lines and wrinkles, open pores, blackheads, pigmentation, acne scars and so much more.
With regular treatments skin can become firmer, rejuvenated and smoother, with improved skin tone and clarity.
What are the benefits of the Soho Skin Intensive Microdermabrasion?
The Soho Skin Intense Microdermabrasion uses a combination of a superficial skin exfoliation using tiny crystals along with an application of an A.H.A micro-peels depending on whether you want additional skin hydration, skin brightening or skin clearing benefits.  The properties of each of the peels actively work on targeting skins imperfections.
What are A.H.A's and how do they benefit the skin?
A.H.A's are alpha hydroxy acids that work to smooth the surface of your skin and can also increase the thickness of the deeper layers of the skin, promoting firmness.
What about skin sensitivity?
Our fully trained and highly experienced skin care therapist will be able to adapt the treatment depending on the results you are looking for, and one of the main things we look for within any facial is skin sensitivity.  The treatment has been designed to give maximum results and to also ensure you are left with glowing, soothed and hydrated skin afterwards.   Before the end of the treatment we use a specialised professional based treatment mask that aids skin hydration and works to soothe and calm the skin.
Price: from £55. Book online.
Day 2: Lift your lashes
A lash lift is a relatively new procedure that allows you to ditch your curlers in favour of a wide-awake look without the use of mascara.  I would recommend a lash lift to anyone who is looking for a time saving beauty regime as well as those who have short, straight lashes as this treatment lengthens, thickens and lifts your natural lashes from the root without the use of lash extensions.
How long does the procedure take?
It takes approximately 45-60 minutes.
How long does it last?
The effects can last from 4-6 weeks
Will it damage my natural lashes?
The lash lift system works with your natural lashes and does not disrupt the natural lash cycle.  Your natural lashes will not be harmed with this procedure.
What is the maintenance?
There is no maintenance with this treatment other than ensuring you do not get your lashes wet for at least 24 hours after the treatment.
What is involved in the treatment?
We use a choice of three different sized silicone pads ranging from small, medium and large – depending on whether your lashes are short and straight (in which case the small pad will give the best result) or naturally long (we would use the large silicone pad).  We then use specialised solutions that enable your lashes to follow the structure of the silicone pad; your lashes are lifted from the root and then 'set' in place.
Once the treatment is completed you are advised not to get your lashes wet for at least 24 hours, after that you can swim, use mascara and go about your normal daily skin care and make-up routine – minus the eyelash curlers!
Day 3: Create a Valentine's day glow with bio effect EGF Serum 
We are pleased to announce the launch of Bio Effect EGF Serum which is based on 10 years of research by pioneering biotechnology company in Iceland.  I have been amazed by the number of reviews of this product and I can honestly say after using the product myself for 2 weeks I can see that my skin has become much more hydrated, softer and with less visible lines.  Bio Effect EGF Serum promises to restore your skin's youthful radiance as well as minimize signs of ageing and rejuvenate the skin's complexion, using only 7 ingredients!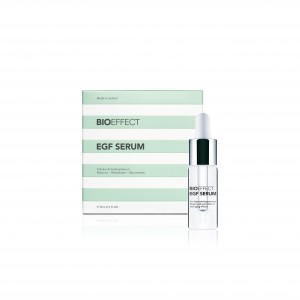 Its key ingredient is Epidermal Growth Factor (EGF), a substance which occurs naturally in human skin and which has the ability to speed up the rate of cell turnover within the skin.  Cellular activators are proteins that are vital for the maintenance and repair of skin cells. With age the level of these cellular activators within our skin decreases. Our skin renews itself less frequently, and begins to look less radiant and more wrinkled. Regular, once or twice daily use of Bio Effect EGF Serum reverses this process and gives visible dramatic improvements within weeks.
World renowned authority of dermatology, Dr Ronald L. Moy, has conducted a clinical study on the efficiency of Bio Effect EGF Serum and ascertains that the results are the best he has witnessed from a topical agent in his thirty years of practice.
Price: Bio Effect EGF Serum: £120/15ml – Can be purchased in store at 7 Silver Place.
Day 4: Become a Smooth Operator 
Waxing has become increasingly popular amongst men and women in recent years, with many people opting out of shaving and using depilatory creams for longer lasting and smoother skin.
Shaving only removes hair from the surface and not only does it irritate the skin but unsightly stubble can appear within a day.  Depilatory creams may remove hair smoothly but it grows back more rapidly than with waxing, and with the use of many chemicals can cause skin irritation and allergic reactions.
Waxing removes hair from the hair 'bulb' ensuring that hair becomes softer, finer and easier to remove over time.
We use a combination of 'hot' and 'strip' wax depending in the area and sensitivity levels.  Hot wax has developed dramatically over the years and most are now formulated with honey to help soothe the skin and prevent irritation, we use hot wax for facial waxing, underarm waxing and bikini line waxing (we also carry out male intimate waxing using hot wax).
Whether you are male (we have a male waxing therapist who specialises in male intimate waxing) or female, our waxing therapists are fully trained, thorough and will put you at ease, whether it is your first time or you are a waxing novice.
Prices: from £10. Book online
On Valentines day: Clear your Complexion with our SuperFacials
Standard facials often require lengthy appointment times when sometimes you just want to have a time efficient treatment just to give your skin a quick boost. Soho Skin SuperFacials are an ideal choice for a pre-event/pre-party facial that can help brighten tired skin and improve skin tone and texture, clean congested spot prone skins and hydrate and nourish ageing skins.
Soho Skin SuperBright Facial
We use a professional exfoliation facial product that combines ingredients derived from papaya, blueberry, kiwi and pomegranate that work to remove the superficial layers of dead skin cells to leave your skin radiant and smooth.
Papaya fruit and papaya enzyme, called papain, are used in many skin care and repair products. Papain works as a mild exfoliant and dissolves dead skin cells, so it is used to treat acne and reduce wrinkles. Its skin renewal properties mean it can fade dark marks and even skin tone, and papaya has become a natural ingredient in skin-brightening products.   It also contains Vitamin A, which helps in the formation of new skin cells, as well as Vitamin C, which softens the skin.
Soho Skin SuperClean Facial
We use a specially selected professional strength treatment mask that uses a combination of white ash clays and kaolin designed to normalise oil production, alleviate inflammation and purifying the skin due to its powerful anti-bacterial, astringent and healing effect on the skin.
As a long-used skincare ingredient, Kaolin clay purifies, soothes, nourishes and heals all skin types. This natural form of clay is chemical-free and has been used in facial masks throughout history by the Romans, Greeks, Egyptians, Chinese and others. As a facial mask ingredient, Kaolin clay helps to detoxify skin and improves blood circulation. Its exfoliating and hydrating properties slough away dead skin cells, making it an effective treatment for chronically dry and damaged skin.
While Kaolin clay is beneficial for all skin types, it's a particularly beneficial option for oily skin because it reduces the production of sebum, which is the main cause of the greasy skin effect. Finally, this ingredient helps to mineralize skin, creating the desired smooth, glowing look.
Soho Skin SuperHydrate Facial
We use an intensive mask that is designed to feed the skin from the outside in and repair damage caused by free radicals, pollution and the environment.  It's cocktail of antioxidant ingredients provides an intensive boost to help repair and re-hydrate skin.
A top benefit of using antioxidant in skin care ingredients is their ability to reduce appearance of wrinkles.  Although it is nearly impossible to make wrinkles disappear with skin care products, using products that contain antioxidants can help plump out your skin and make it appear more youthful. Most antioxidants are great for reducing the appearance of wrinkles and fine lines, but vitamins C and E as used in the SuperHydrate facial are especially beneficial.