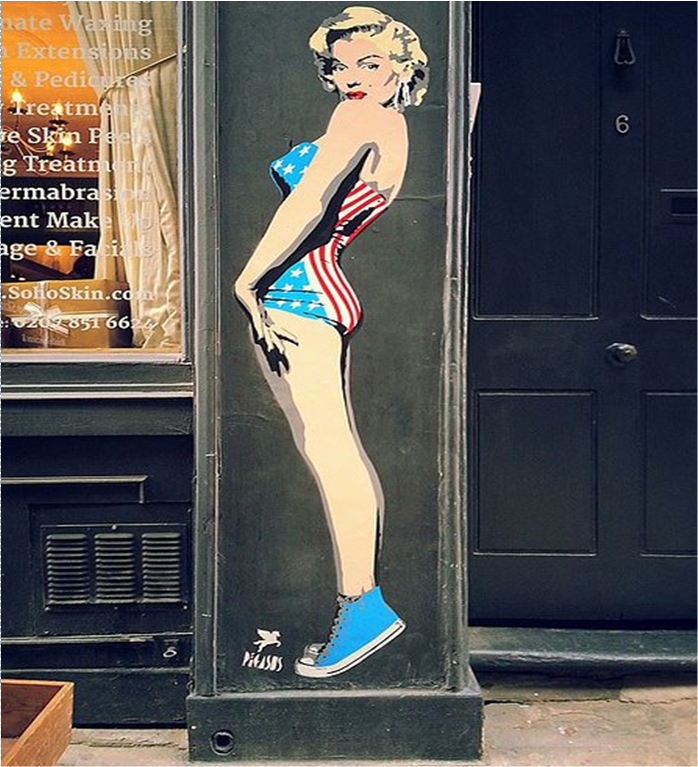 It's hard to miss the cheeky street art displayed outside our little home on Silver Place. Renowned street artist Pegasus painted Marilyn Monroe for us, after meeting Dr. Nazim Mahmood in 2013. Clients and passers by often comment on our Marilyn, who has become a bit of a tourist attraction herself!
Dr. Anita Kapoor founded Face Clinic London with Nazim, all the way back in 2009, and still remembers the clinic's beginnings:
"The early days involved us travelling around with trolley suitcases on odd days when we were not busy as GPs. Nazim's dedication, vision and hard work allowed the business to grow and our loyal, supportive client base pushed the business forwards to what it is today. We remember our dear friend Simon Murphy who rented us the basement room for 3 years and always encouraged us to follow our dreams whenever times got tough."
"In 2013 we gained a permanent base in Soho, and Naz got straight to work refurbishing the clinic. The theme was 'peacocks' – a symbol of integrity and the beauty we can all achieve when we endeavor to show our true colours."
While Face Clinic London and Soho Skin were growing in Soho; Pegasus was busy, peppering the streets with his tounge-in-cheek artwork. Now he is a rising star, creating high-profile street art across both sides of the Atlantic, and even gaining a celebrity follower or two. We are glad that he still pops in to see us now and again, to talk art, Botox, and to remember our dear Naz. It was on one of these visits that Pegasus kindly offered to donate his next masterpiece to The Naz and Matt Foundation; to be installed inside the clinic.
Dr Anita can reveal a little about the theme of the artwork:
"Earlier this year Pegasus and I realised by chance that Naz had discussed his Peacock vision with both of us separately and individually and the peacock mural idea was born!"
We are so happy and proud to invite you all to celebrate the unveiling of the artwork on Saturday 24th October from 6pm.
The evening will consist of cocktails, light refreshments and pampering! Sophia will be on hand for mini manicures and facials whilst Jorge will massage away all the stress from your neck and shoulders. All bookings made on the day will receive a 20% discount.
After the unveiling evening, all visitors wishing to view the artwork will be asked to make a donation to Naz and Matt Foundation.
See you there!
When – Date & Time
Saturday 24th October 6pm
Where – Location
Soho Skin / Face Clinic London
Silver Place,
Soho,
London,
W1F 0JT
About Pegasus
Pegasus made headlines with a stencil showing the Duchess of Cambridge, Kate Middleton, as the Virgin Mary with Prince George of Cambridge as baby Jesus. The image, inspired by the 14th Century painting Madonna And Child by Italian artist Duccio di Buoninsegna, was created in honour of the arrival of the future King of England. The painting was exhibited at the Hoxton Arches gallery in London's East End in 2013 and is the fifth Royal portrait by Pegasus. Previous work featuring the royal family includes Queen Elizabeth dressed in her crown and Geri Halliwell's Union Jack swimsuit. The painting is located at the Caledonian Road. There is also a nude Prince Harry, inspired by the media images of him while he was holidaying in Las Vegas. This work can be found in the bathrooms of the Winchester Bar in Angel as well as at the skate park along the Embankment in London
More info:
https://www.pegasusstreetart.com
About Naz and Matt Foundation
Naz and Matt Foundation was set up in 2014 following the sad loss of Matt's fiancé of thirteen years, Naz (Dr Nazim Mahmood), who passed away two days after his deeply religious family confronted him about his sexuality.
Naz and Matt Foundation exists to empower and support LGBTQI (Lesbian, Gay, Bisexual, Transgender, Queer, and Intersex) individuals, their friends and family to work towards resolving challenges linked to sexuality or gender identity, particularly where religion is heavily influencing the situation.
By tackling the problem head on, raising awareness and mentoring Naz and Matt Foundation hopes to open the eyes of closed minds in communities and families so that they will love the children they gave birth to, for the individuals they were born to be.
Their mission is to never to let religion, any religion, come in the way of the unconditional love between parents and their children
More info:
https://www.nazandmattfoundation.org
About Face Clinic London and Soho Skin
Face Clinic London was setup by Dr Nazim Mahmood and his friend Dr Anita Kapoor in 2009. The mission – to make people feel happy about themselves. They are a friendly Doctor-led London based facial aesthetics clinic offering Wrinkle Treatment, Sweating Treatment and Dermal Fillers.
Soho Skin is the fresh new beauty business that helps people look young and feel beautiful. They offer a range of high-end beauty treatments for men, and women, and their skin care range is backed by medical research.
They are highly regarded in the local community and 9/10 of their clients highly recommend them.
https://facecliniclondon.com
http://www.sohoskin.com