Please note, this blog is from 2013. Face Clinic London no longer offers Skinceuticals. Please use this post as a guide.
Summer is here – almost, and it's that time of year when the sun comes out and out come all the freckles, blotches and skin blemishes!
Visible dark spots or patches can be identified on the skin's surface, leaving skin with an un-even appearance, with sun exposure from the sun's rays being the main cause.
So if you're fed up of using make up to hide those unwanted freckles, dark patches or unsightly blemishes and you want to banish uneven skin tone for good; it's time to try our beauty buy of the month – Pigment Regulator!
So what is it?
Melanin is the skin's natural pigment which gives us all our individual natural skin tone and colour, which can darken or tan when exposed to sunlight or sun beds.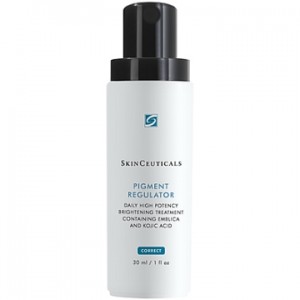 Pigment Regulator works on reducing melanin in the skin. It is a highly effective approach to full facial skin lightening offering a safe alternative to more disruptive medical skin lightening treatments.
It is ideal for those with patchy and localised areas of excess skin pigmentation, melasma, (which is skin pigmentation caused by hormonal changes), sun burnt skin, freckles, age spots and acne related discolorations, providing a natural, radiant even skin tone!
Made by SkinCeuticals, a world renowned skincare company, specialising in science led anti-aging products. SkinCeuticals offer products that gently and safely address this common skin concern by helping to reduce the appearance of dark spots and protecting against the development of further pigmentation.
How does it work?
Pigment Regulator reduces melanin in the skin via a formulation of kojic acid and emblica with a highly efficient exfoliating blend. Here is more information about these ingredients:
Kojic acid is a tyrosinase inhibitor which reduces production of excess amounts of melanin and signs of redness, as well as having antibacterial and antifungal properties
Emblica is a melanosome transfer inhibitor which prevents excess melanin from reaching the skin's surface – a plant extract containing antioxidant properties
Exfoliants to break up and reduce melanin clusters on the skin's surface and provide a vibrant and even skin surface
What are the benefits?
It is safe and as effective than harsher skin lightening methods such as 4% Hydroquinone
May be used all over the face to reduce local and diffused excess hyperpigmentation
Provides a natural even skin tone unlike harsh bleaching agents
Reduces brown spots, freckles, dark patches, redness and blotchiness
Improves overall skin tone for a brighter, more radiant appearance
Prevents future discolourations
May be used on a daily basis long term without unhealthy side effects
How to you use it?
Apply to the face, neck and chest twice daily. For optimum results, use as part of a SkinCeuticals regime that includes a topical antioxidant and a broad-spectrum sunscreen.
Which other treatments can it be combined with?
Products which can be combined with pigment regulator to attain optimal results are antioxidants and sunscreens which together can effectively block UVA and UVB sun rays and prevent further new pigmentation occurring and stop existing pigmentation from becoming deeper.
Retinol is an effective corrective treatment which can be used at night to treat pigmentation in combination with Pigment Regulator.
Pigment Regulator can also be tried before other non-invasive rejuvenating procedures aimed at treating pigmentation such as laser, microdermabrasion and chemical peels.
---
Face Clinic London offers a range of treatments, including Botox Wrinkle Treatment / Brotox, Dermal Fillers, IV Vitamin Therapy, and Excessive Sweating Treatment. See our full list of treatments.
To make an appointment book online, or call Face Clinic London on 020 7851 6624, or email [email protected].