Please note, this blog was posted in 2013. Marilyn is unfortunately no longer with us – but the wonderful Audrey Hepburn has taken her place. Why not pop by and see her?
Madonna, in her conical bra, set the late 80s on fire. And she's doing it again, on the streets of London, thanks to urban street artist Pegasus.
Pegasus hit the headlines in August of this year with a controversial image of Kate Middleton clothed in blue robes holding Prince George, inspired by the 14th century Italian painting 'Madonna and Child'.
So what's all this got to do with The Face Clinic and SoHo SKiN?
Well, we're lucky enough to have Pegasus's latest artwork on the front wall of our Soho Clinic. It depicts Marilyn Monroe in a swimsuit adorned with stars and stripes and a cheeky pair of converse.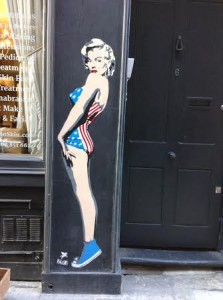 'You've never seen Marilyn in a pair of Converse before' said Pegasus, who went on to explain how his work is centered around playing with the conventional and expected images of certain pop culture celebrities.
Merging representations, Cher with a David Bowie lightning flash on her face, Angelina Jolie dressed as Wonder Woman, and a personal favourite The Queen poised as a young starlet.
His images capture the tragic and the sublime simultaneously and there is a strength behind the eyes of these modern women that is inspiring.
Marilyn has caused quite a stir since her arrival on Silver Place. Residents and local business's coming round to see her and passers by taking photographs.
Why not come and see her yourself?