Face Clinic London are proud to present – Secret RF!

We have been working hard behind the scenes, researching and training on the latest aesthetic advancements so that as of Tuesday 7th September 2021, we can offer to you the latest and most promising in aesthetic treatments; Radiofrequency technology.
It's no secret that demand for non-surgical treatments is on the rise, especially those with little to no downtime, so we're very excited to offer you a new treatment to help solve so many problems!
Fine lines and wrinkles, as well as uneven skin tone, scarring and more can be an issues for so many – which is where Secret RF steps in.
Secret RF is a treatment that combines radiofrequency with micro-needling to kickstart collagen production. The targeted radiofrequency energy works to revitalize, rebuild and smooth the skin, resulting over time in a firmer and more evenly toned complexion.
So why choose Secret RF?
What makes Secret RF so appealing, is the fact that using radiofrequency through tiny micro-needles means the treatment is able to deliver energy where it's needed most – beneath the skin's surface. The unique way it delivers this energy means that it is effective on all skin types
Both radiofrequency and micro-needling have been used separately for years to address skin concerns, but combining them is a game changer in terms of the benefits it can bring about.
With adjustable needles, Secret RF is equipped to deliver radio-frequency energy at varying depths in the skin, so that each treatment can be tailored to the individual needs of the client, addressing;
· Fine lines
· Wrinkles
· Acne scarring
· Stretch marks
· Skin laxity
· Sun damage
· Pigmentation
All with less downtime, and less pain, than more traditional treatments such as laser.
This treatment is also appropriate for more sensitive areas where traditional Dermal Filler bioremodelling treatments can't reach, such as around the eyes and the forehead.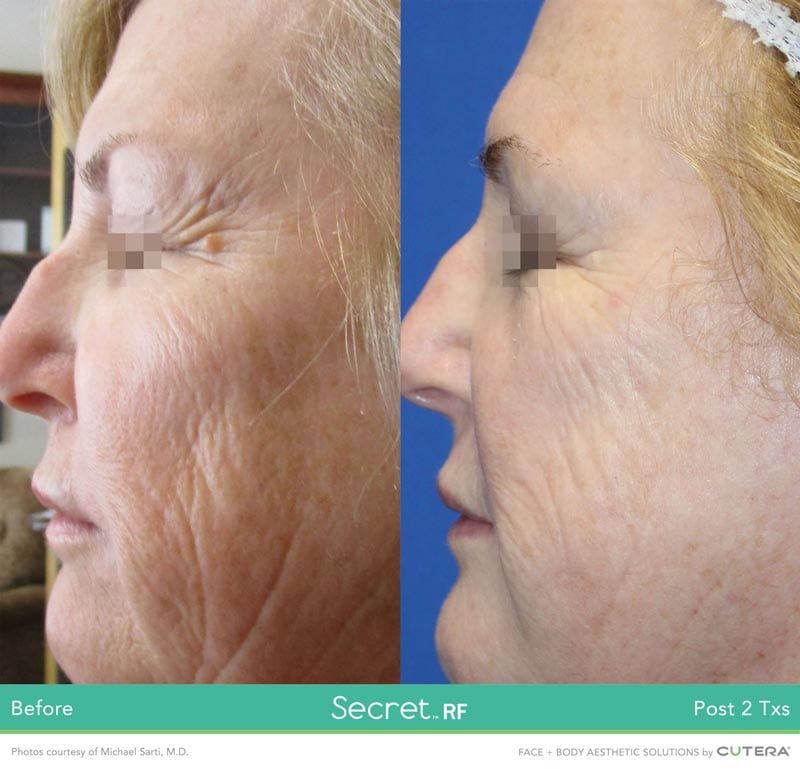 So how does it work?
When the micro-needles are inserted into the skin, delivering their radiofrequency energy to the lower layers of subdermal tissue, they trigger a healing response; stimulating new collagen production and accelerating cell regeneration.
The machine is precisely controlled to apply the radiofrequency energy without risk of over-heating or burning the skin; it is quick, safe and effective.
So who can benefit?
Whilst there are many benefits to the Secret RF treatment, one of its best points is that it is suitable for all skin types.
It can be performed on the face, neck, chest and the body too – with only minimal and temporary side effects.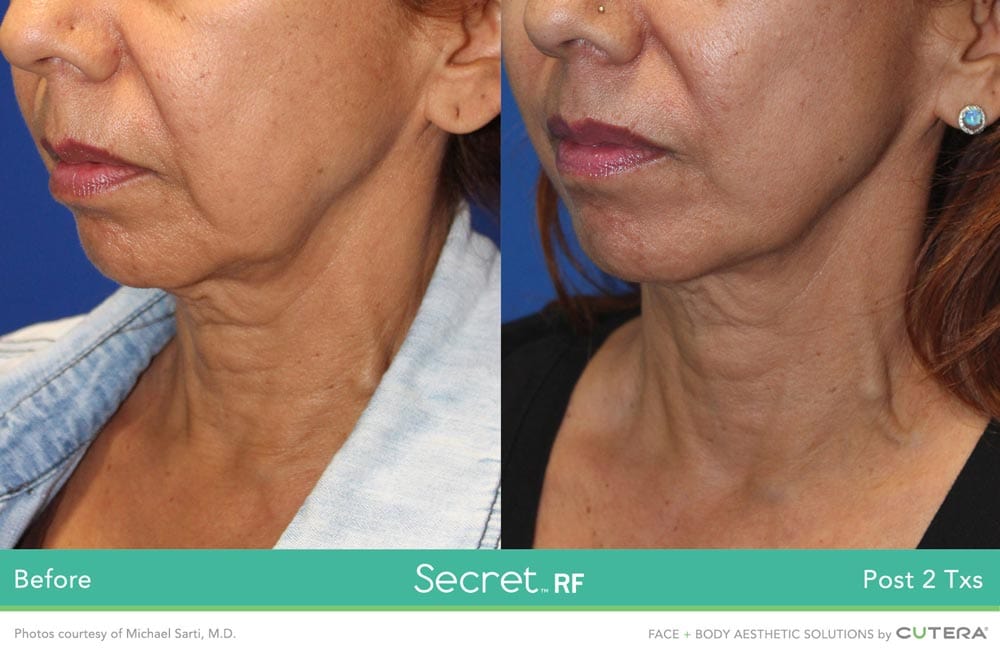 How many treatments will I need?
We recommend a course of 3 treatments spaced 4-6 weeks apart for optimal results.
We want to share the love with you all here at Face Clinic London, which is why we're launching the SecretRF treatment with an incredible introductory offer.
For a short time only, we'll be offering a course of 3 treatments for the Face, with the additional neck area treated without further cost.
You'll be making a saving of £1175 on your total – you can't say we don't give you anything!
Book in for your consultation now – we can't wait to share our secret with you.